PATHWAYS FROM HOMELESSNESS 2021
Everyone always in?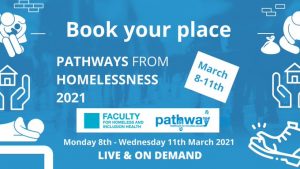 The 9th international symposium on inclusion health will take place on the 8th – 11th March 2020.
The conference will bring together the latest national and international evidence and best practice in health, housing and public services for excluded people.
In light of COVID-19, the 2021 Pathways from Homelessness Symposium will take place entirely online, over the course of the week commencing Monday 8 March 2021. Transmitted across the globe, all the presentations will be live streamed, recorded and included in the Symposium boxset that each delegate will receive after the event to inform local policy development and practice, for staff training and induction.
Regional networking hubs will also be available, COVID-19 permitting, details of which will be announced in February 2021.
This conference week of programmes will cover research and professional insights, practical solutions for councils and public health authorities.
Recovering and rebuilding from COVID-19, including identifying and learning from good and bad service changes
Protecting the most vulnerable in difficult times
Entrenching housing First
No person left on the street – 'everyone in'
What new role for housing associations?
Maintaining smart local government approaches
Understanding health and trauma contributions to homelessness
Sharing international experience on tackling homelessness
Building on the Homelessness Reduction Act
GP led primary care
This is an annual symposium developed by Pathway and the Faculty for Homeless and Inclusion Health, bringing together a coalition of partners to focus on the many issues affecting homeless people's wellbeing.
#HomelessHealth21
Find out more and book your place here.