IMMEDIATE RELEASE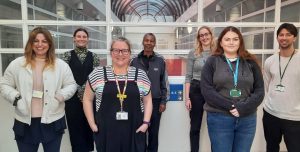 A new local health service officially launched in Hackney last week [24th February 2022] to treat its most vulnerable patients.
The new Inclusion Health team at Homerton Hospital has been created to treat the health and social care needs of people experiencing homelessness and others excluded from mainstream health services. The team was brought together by Pathway, the UK's leading homeless healthcare charity, in partnership with the NHS and other community organisations, to improve care for people experiencing homelessness.
The launch event heard from Councillor Sade Etti, Hackney Cabinet Member for Homelessness, Housing Needs & Rough Sleeping; Cindy Fischer, Commissioning Programme Manager, NHS North East London CCG; Breeda McManus, Chief Nurse, Homerton University Hospital Foundation Trust; Irfaan Ibne, Head of Operations at East London Foundation Trust; Dr Theresa Murphy De Souza (GP) and Hannah Green (Senior Nurse), from the Inclusion Health team; Alan Ferguson, Head of Service from Peabody (housing and community programme provider); and Pathway CEO, Alex Bax.
The Inclusion Health team aims to stop the revolving door of hospital attendance, and treat patients' health, social care and housing needs. The new team want to bridge the gap in treatment so that all patients are able to access high quality health care, and whilst also establishing a safe and secure home, so that once the patient leaves hospital, they will be aided in their recovery and on-going health.
At the launch Dr Theresa Murphy De Souza, Clinical Lead of the Inclusion Health team, said:
"Homelessness is a healthcare issue. You can't be well if you don't have a safe, clean, stable place to stay."
Cllr Etti said the new team will: "improve quality and improve partnership working."
Irfaan Ibne, East London Foundation Trust, said: "This is collaborative working at its best."
Alex Bax , Pathway CEO said: "We are pleased to have been a part of setting up this service at the Homerton, and it has been inspiring to work with a team who are so clearly committed to caring for some of London's most vulnerable people. There is a real need locally to treat people who may be missing out on care. This new team will treat all patients with respect and dignity, and help as many people as possible move on from homelessness." 
The Inclusion Health team will support and advocate for homeless patients, improve patient care, enable safe discharge and follow up in the community. They will also help to train hospital staff to identify homelessness, and host regular team meetings to ensure ongoing progression of complex cases.
Referrals to the service are accepted from within the hospital, GPs, supported housing providers, local authorities or from people experiencing homelessness themselves.
ENDS