Challenging Healthcare, Changing Lives
Two rainy days in London in March 2016 brought together 300 doctors, nurses, mental health professionals, experts by experience, support workers, commissioners and researchers, united by a single passion: helping vulnerable patients.
The event attracted speakers from all over the world, including:
Jane Dacre, President of the Royal College of Physicians
Dennis Culhane, Professor of Social Policy at the University of Pennsylvania
Professor Richard Wilkinson Professor Emeritus of Social Epidemiology at the University of Nottingham Medical School.
Professor Sir Michael Marmot, Director of the Institute of Health Equity, President of the World Medical Association
Audiences in 5 locations across the UK and Ireland joined the debate through remote access. The programme included an impressive 16 unique workshops,  including the implications of novel psychoactive substances, work with gypsy and traveller communities, commissioning services and end of life care for homeless patients.
Our team of Experts by Experience co-chaired many of the sessions, offering unique insight from people who have lived through homelessness and exclusion. As one delegate said:
"Great meeting of minds, incredible networking opportunities and so much learning done!"
Early Bird Bookings 2017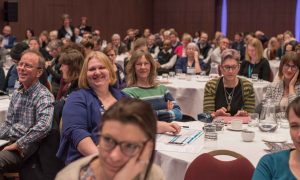 The 5th International Symposium on Homeless and Inclusion Health will take place on 1st – 2nd March 2017.  Early Bird bookings are open until the end of September!
For the first time this year's event will include opportunities for health and social care practitioners to submit papers for presentation. Get in touch if you'd like to present your team's work.
See pictures from the 2016 event
See videos of the plenary sessions
Listen to podcasts of the seminars