Do you work with people sleeping rough?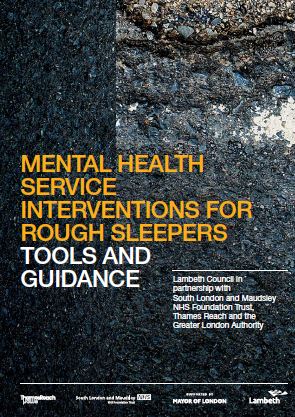 Many homeless patients seen by Pathway hospital teams face mental health problems, as well as physical health and substance misuse issues.
Pathway hospital teams liaise with partners in mental health services and include mental health professionals in the team.  We supported the opening of the UK's first homelessness service within an inpatient mental health unit.
Many outreach workers face problems when supporting people who have mental health problems who are sleeping rough. This mental health and homelessness guidance is designed to address this.
Mental health guidance for outreach workers
In 2013 Pathway worked with The Greater London Authority, Lambeth Council, South London and the Maudsley NHS Foundation Trust and Thames Reach to publish new tools and guidance to help outreach workers supporting people sleeping rough. The publication includes practical tools guiding workers through the use of the Mental Capacity Act and Mental Health Act.  It has been regularly updated to include statutory changes, with the most recent update being published in autumn 2017.
The tools and guidance are for practical use for everyone who works with clients or patients on the streets.  The Faculty for Homeless and Inclusion Health endorsed this work  to help us all respond better to the needs of vulnerable people on the street. The Mayor's office and Pathway are funding free targeted training seminars for specialist staff in London to help implement the guidance. Sessions can also be commissioned in other areas.  Please contact us to arrange training in your area.
Download the guidance documents and forms:
Download the guidance – Mental Health Service Interventions for People Sleeping Rough
Mental Capacity Act Screening Tool
Mental Health Act Screening Tool
Hospital Homelessness Mental Health Admission Plan
Appendix 1 – Autism Spectrum Disorders and Consideration of Mental Capacity
Advice for London charities
Pathway offers an advice line for homelessness outreach workers in London seeking advice on the use of the guidance with complex clients on the streets. Enquiries will be responded to in the next working day, by a mental health professional with particular experience of homelessness. The helpline can:
Support workers from housing and mental health services in London with expert advice.
Give guidance to workers in the homeless sector around considering whether someone has mental capacity to make a particular decision.
Help health workers understand how services for homeless people operate.
Help apply mental health and housing legislation in specific situations
Advice line: 020 3291 4184 (24 hour answerphone)
Email: mentalhealthenquiries@pathway.org.uk
All messages will be answered within 24 hours by an Approved Mental Health Professional with experience of homelessness and mental health. The service is open to any professional or organisation working with people sleeping rough, or who have had a homeless person sleeping rough referred to them. Please remember to leave contact details, and a brief outline of the issue.