Overview of Event
The two days of conference this year started with 'big picture' presentations discussing about economic and social trends impacting on the health of disadvantaged, vulnerable or marginalised groups, with Dr David Stuckler on the first day and Professor Danny Dorling on the second. We heard about international trends related specifically to homelessness from Professor Stephen Hwang (University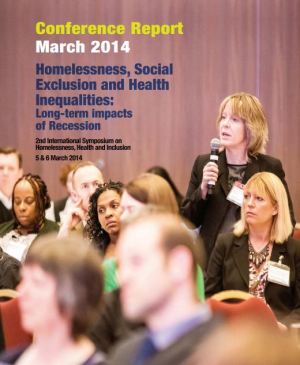 of Toronto) and Damla Fabian (European Federation of National Organisations Working with the Homeless) as well being updated on the UK policy context by Jane Ellison MP (Public Health Under-Secretary of State), Ruth Passman (NHS England), and Duncan Selbie (Public Health England). We also had presentations on what health services can and should be doing for excluded groups with a focus on primary care from Professor Steve Field (Care Quality Commission and Inclusion Health Board) and hospital provision from Toby Lewis (Sandwell and West Birmingham Hospitals NHS Trust).
The programme also included plenary presentations about what works in seeking to break the vicious circle of exclusion and health problems. Delegates heard from experts with significant
experience of providing services within deprived communities, namely Dr Ingrid van Beek
(Kirkton Road Centre, Sydney) and Professor Graham Watt (University of Glasgow). Plenary sessions were skilfully chaired by Mark Easton (BBC Home Editor) and included opportunities to hear some challenging views about how policies and services could change – both from
presenters and from the Service User Experts and other conference delegates. Julian Corner (Lankelly Chase) offered an alternative view on how systems for health and care services could be delivered, and Rick Henderson (Homeless Link) provided a view from front-line providers. The conference ended with a 'Reality Check' discussion about the implications of what delegates had heard over the previous sessions. We were privileged to hear perspectives from the Homeless Service User Experts group (Bean Stocks), Open Doors Sex Worker Service (Georgina Perry), Pathway Homeless Healthcare (Nigel Hewett), Prison Reform Trust (Jenny Talbot) and Refugee Council (Maurice Wren). As well as plenary sessions and discussions, delegates had the opportunity to hear about, and discuss, a wide range of workshop presentations from a range of sectors, locations, and areas of research or practice, as summarised in the tables on page 20.
For more on the Service User Involvement at the event please click here.