Homelessness, Exclusion and Dental Problems
Many homeless and excluded people struggle with oral health problems.
Up to 15% of people experiencing homelessness have attempted to extract (take out) their own teeth. Almost a third have been to A&E because of dental pain, and more than a quarter have used alcohol or drugs to manage it.
The problems are caused by a combination of issues, including:
not having access to a bathroom to brush teeth,
high sugar diets,
smoking, alcohol and drug use,
chaotic lives,
mental health problems,
low expectations of dental care,
the cost of dental services (especially for those not in receipt of benefits),
confusion about charging or entitlement to care,
being turned away from dental surgeries, or other challenges in accessing dental services.
Prioritising things such as shelter, food, financial, health and social issues above oral health may mean that people who are homeless do not act until they are faced with a dental crisis.
---
What do the Faculty Homeless and Inclusion Oral Health group do?
The Faculty Homeless and Inclusion Oral Health group is a multi-professional group of clinicians, researchers, lecturers, trainees and students who are passionate about improving the oral health of people experiencing social exclusion.
Members are taking action to help homeless and excluded people to prevent and deal with dental issues.
We are building relationships with grass roots outreach initiatives and charities, opening up opportunities for oral health promotion outreach, working with commissioners and policy makers and raising awareness across the profession through regional, national and international speaking opportunities and a biannual newsletter sharing good practice in Homeless and Inclusion Oral Health.
---
How can I get involved?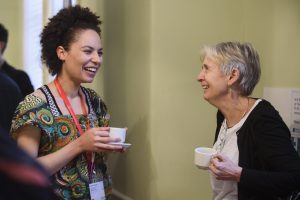 ---
How can I learn more?
The links below are great examples of work happening in the field, which can be adapted for your dental service.
Groundswell healthy mouths study
Groundswell Healthy Mouths poster
Groundswell Health Mouths Poster Guidance
Register to volunteer with Crisis at Christmas Dental Service