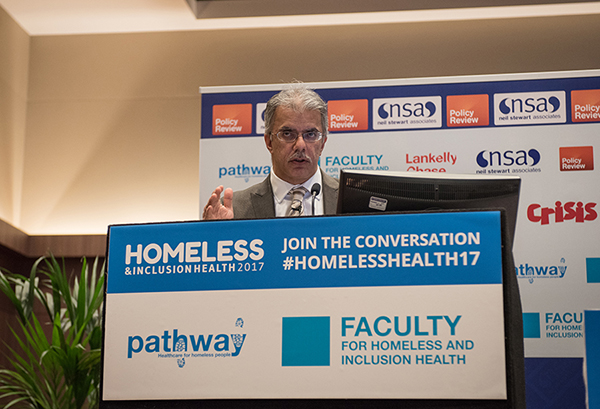 Homeless and Inclusion Health 2018 will take place in London on 7th – 8th March. We are seeking presentations of interest to our audience of professionals drawn from medicine, mental health, housing, public health, research and commissioning and Experts by Experience who have lived through exclusion.
Presentations should be 15 minutes long, followed by 15 minutes of discussion. Submissions will be assessed by a committee from the inclusion health field.  Areas of interest include academic papers, data describing services or clinical issues, interventions drawn from practice, evidence of service user involvement and the use of multidisciplinary approaches. Preference will be given to members of The Faculty of Homeless and Inclusion Health. The committee looks favourably upon submissions from people with lived experience of exclusion.
A 200 word abstract, made using the enclosed Excel template, should be sent to Katrina.Wright@neilstewartassociates.co.uk by Friday 11 August 2017, 10am.
Click here to book delegate tickets for Homeless and Inclusion Health 2018. Early bird rates are available until August.
Terms
Successful submissions will be offered one free ticket per paper for the lead speaker on the day of their workshop, and a reduced price ticket for the other day of the event. Additional speakers are eligible for a reduced fee for the day(s) of attendance.
All presentations at the conference may be recorded and/or filmed, all presenters must agree to this unless there are safety concerns in doing so.
The charity has limited resources and prioritises supporting Experts by Experience (EbE) to attend the symposium. As such we cannot pay travel and hotel costs for speakers unless they are part of the EbE programme and/or there are extenuating circumstances. If this applies to you please indicate this on your submission.
As a thank you for submitting your work, if your paper is not accepted then the Faculty will offer you the Early Bird Delegate Rate, even if this has expired.