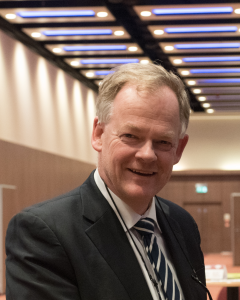 Professor Aidan Halligan
Professor Aidan Halligan, MA MD FRCOG FFPHM MRCPI FRCC was the founder and chair of Pathway.
He was a husband, father, surgeon, the Principal of UCLH Staff College, and Director of Integrated Clinical Care at Central Manchester University Hospitals.  Aidan died suddenly and unexpectedly on 27 April 2015.
Aidan's talents and expertise were formidable. During his lifetime he held positions as a Professor of Gynaecology and Obstetrics, Director of Education at University College Hospital London (UCLH), Director of Clinical Governance for the NHS, and was the youngest Deputy Chief Medical Officer for England.
He also made lifelong friends, ranging from formerly homeless people, to Duncan Selbie, Chief Executive of Public Health England, seen here sharing his personal, heartfelt memories of Aidan at a memorial in July 2015:
"What you permit, you promote"
Aidan was a passionate advocate for leadership, and used his work with the army to shape a programme of learning for medical professionals that called for vocational motivation and transparent accountability, underpinned by compassion, recognising that "people measure their behaviours and beliefs by those around them"
Aidan once wrote that "Doctors and nurses are not managed into patient care, they are led". He embodied that sentiment, engaging with homeless healthcare and even hopping down from the stage during a speech to offer his contact details to a patient who had received poor care at his hospital.
His charm made him a compelling public speaker. He shared his wisdom through vignettes of the world he saw around him. Here he speaks about a Health Care Assistant at the reception desk of an Accident and Emergency department, whom he recognised as a leader:
"You Get Your Authority from How Much You Care"
Despite his powerful position, Aidan never lost sight of patients as the most important people in healthcare. He used his eminence to change health systems, creating models of care that placed patients at their heart.
In these videos, Trudy Boyce MBE and patient Penny Hefferan speak about Aidan attending a support group for women with pre-eclampsia. The group had been forced to remain in hospital throughout their pregnancy. With support from Trudy, Aidan developed a revolutionary monitoring system, enabling them to continue their pregnancy safely at home.
"Doing the right thing on a difficult day"
Aidan's death has left a huge hole in many lives and organisations. His legacy is a plethora of projects and teams, learning and leadership, dedicated to changing the face of healthcare in his memory.
The Faculty for Homeless and Inclusion Health continues to expand, bringing together professionals who care about vulnerable patients, and setting the highest standards for the services that support them.
There are now Pathway homeless hospital teams across the UK, and the charity works with international colleagues all over the world; sharing and spreading our understanding of inclusion health.
The charity is now carrying out research into end of life care for homeless people, taking Aidan's message of compassionate leadership into new fields, with a view to a more permanent memorial with donations made following his death.
When Aidan began Pathway in 2009, we could not have foreseen the impact it would have. We can only hope to live by the words he spoke at our last conference:
"if you believe in it, then you will make it happen"
Aidan's Memorial
Aidan's wife, Carol, kindly gave us permission to film his memorial, to allow those who could not attend to share the evening. You can view all of the speakers in this video, including Brigadier Johnny Wardle, Dr Nigel Hewett OBE, Alex Bax, Professor Barry McCormick, Duncan Selbie, Trudy Boyce MBE, Penny Hefferan and John Mackmersh.
Click here to read some of the many tributes to Aidan