Pathway Senior Management
Alex Bax – Chief Executive
Alex joined Pathway in 2010. He brings two decades of public health experience, as a senior advisor to Ken Livingstone and Boris Johnson. He led the development of London's first statutory health inequalities strategy, oversaw major reviews of planning policy for London, and chaired London's European Social Fund and European Regional Development Fund Committees. Alex became a member (through distinction) of the UK Faculty of Public Health in 2012.
Alex's work with the Mayor's Office, National Institute for Clinical Excellence, Greater London Alcohol and Drugs Alliance and as a London Child Poverty Commissioner offer him unique insights into the long term social determinants of health, matched only by his passion for fairness and equality.
In addition to his work with Pathway, Alex is a visiting fellow at the Institute of Health and Human Development at the University of East London. He is also Chair of My Fair London.
Dr Nigel Hewett OBE MB ChB DRCOG DCH FRCGP – Medical Director
Dr Nigel Hewett is a retired General Practitioner who has worked with people experiencing homelessness since 1990. He set up the full-time Leicester Homeless Primary Healthcare Service (now Inclusion Healthcare), a community interest company judged "outstanding" by the Care Quality Commission in 2000. In 2006, he was awarded an OBE for services to homeless people.
In 2009, he launched University College London Hospital's Pathway homelessness team. In 2010, he was a founder member of the Faculty for Homeless and Inclusion Health, and in 2011 became Medical Director of Pathway.
In 2018, he edited the 3nd edition of the Faculty Standards for Homeless and Inclusion Health, which has been endorsed by a range of Royal Colleges. The Faculty has grown to a network of over 1600 people, passionate about improving the health of excluded groups, particularly people experiencing homelessness, Gypsies and Travellers, sex workers and vulnerable migrants. Members are drawn from all professions and include people with a lived experience of homelessness and other exclusions. They come together to step outside professional siloes and work collaboratively.
Dr Hewett has published extensively on homeless and inclusion health; many of the papers are included in the resources section on this website https://www.pathway.org.uk/resources/publications/
Stephanie Swan – Finance and Administration Director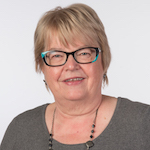 Stephanie has over 30 years experience in public administration and has worked with the London Research Centre, Inner London Education Authority and Greater London Authority, where her groundbreaking implementation of the London Partnerships Register challenged equality discrimination, and paved the way for national Civil Partnerships legislation. Her expertise in Financial Management, Project Management Systems and Investors in People are the bedrock of Pathway's systems.